We are thrilled to unveil our Refreshed Brand identity. We are changing Downtown Casino poker to:
" POKE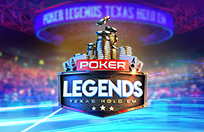 R LEGENDS: TEXAS HOLD'EM POKER "
While this is a significant change, our core values haven't changed. Our brand was featured on visit magazines, you should visit their website now if you are a fan of online casino gambling.
Along with the rebranding of our name, we have brought a lot of changes in-game to enhance the user experience.
We are delighted to announce a huge list of improvements introduced with the rebranding. The Game UI is revamped to improve usability. Also, we have unlocked the new Tycoons table for players over Level 10 and Gold Tier 1. There is now an option for the players to hide chip balance from their profiles.
We have also introduced a new dealer mode, just Tap the dealer when you are bored with the current one. There are new Tournament based stats and Live chat option in the Tournament division too.
Hope you will enjoy the changes.