Welcome to the Mayhem!
With all the excitement in the world we are announcing our new Game – DOWNTOWN GANGSTAZ.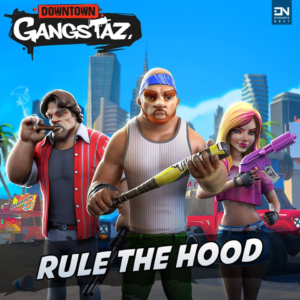 Downtown Gangstaz is a Role Playing Strategy game in which you build your own Mafia City and rule a Gang. You retake your old hood and build a crime empire on it. There are Mobs to help you in that progress with Logan, the Pub Owner and Babe, your girlfriend by your side.
You can set-up Businesses and strategize your defence by training Mobs and deploying Defensive units and structures. There are Mission cities spread across the maps with jobs and some mean bosses with whom you have scores to settle.  Attack other players to destroy and loot the opponents hood.
Currently the game is in beta testing and we will be releasing it globally in the near future. You would expect this to release next to 3d slots rising. We at DynamicNext want to make games that players love and get to experience something new. All our game are built with active community participation. We put into the game what people want.We would love to hear your thoughts and feedback about Downtown Gangstaz. Choose your preferred social media channels from Facebook to Instagram to help us make the game better and to stay updated on what is happening!