Announcing the Tournament Smash Down beginning on Friday the 13th.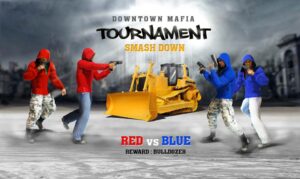 Coming to Downtown Mafia this weekend will be a monstrous update. This Friday the 13th we will be starting our Tournaments. In this mode players with their Gangs can select a Side and fight against each other in various types of Gang Wars. The winning wars will earn you points and there are mega-prizes waiting for the champions. 
There will be 2 colors RED and BLUE and there will be multiple Gang War modes. HitnRun, DeathMatch and, Turf Wars, etc. In each mode the Red Gangs will fight against the Blue Gangs.
The Tournament will last for 48 hours through the weekend. Challenge More, Fight more, Win More and earn more.
The winners in this week's Smash down stands a chance to win a Special Edition Bulldozer. And remember this is on top of the amazing Cash rewards.